Overview
1-time upsells is a feature you can enable in Skio that allows for subscribers to add one-time products to their next order
Upsells can be enabled and disabled on the product level
Enabling upsells will add a 1-time upsell section to your customer portal and gives you the ability to utilize our Quick Action upsell feature
If you'd like to offer special pricing, you can offer an additional discount separate from the Shopify product price.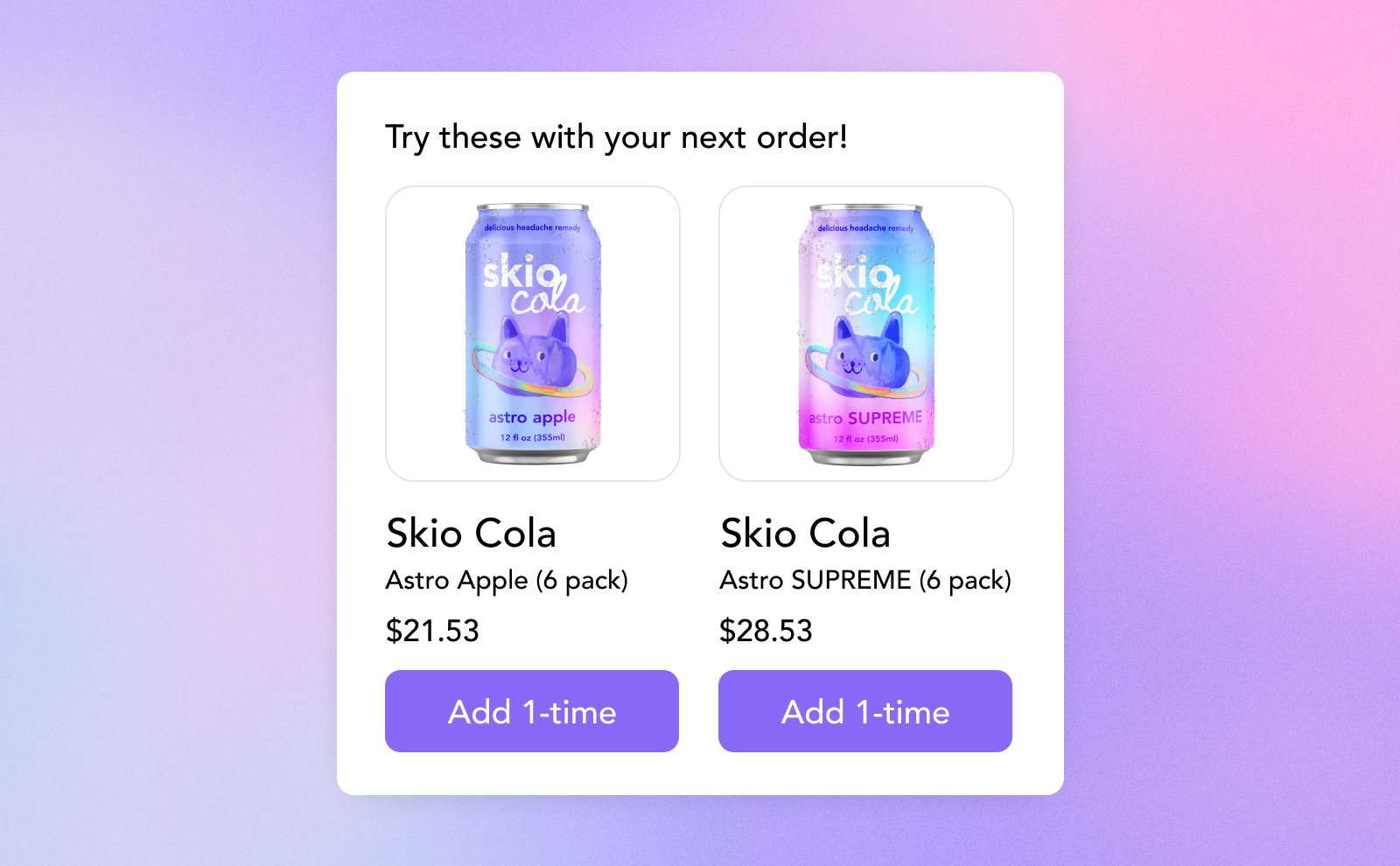 Our 1-time upsell feature is a simple yet powerful tool that can increase your Average Order Value (AOV), increase Lifetime Value (LTV), and overall revenue. When enabled, subscribers will be able to add a 1-time add-on to their subscription order. This is a great opportunity for subscribers to try new products without needing to go through checkout again, thus saving your store on separate shipping and fulfillment costs
---
Why should I use it?
1-time upsells are an excellent way to increase Average Order Value (AOV) through 1-time add-ons. Since AOV x Order Count = LTV, increasing AOV will lead to increased subscriber LTV. Typically, increasing AOV is the easier lever to pull when increasing LTV compared to increasing Order Count. Of course increasing both is the goal
---
How do I set it up?
1-time upsells must be turned on within the Skio Dashboard. To enable the feature, go to Skio > Products and check the "1-time upsell eligible" box for each variant you want to enable. Once you enable the feature, make sure you click save!
After the feature is enabled, your subscribers will see a new module in their customer portal displaying all the eligible upsell products. If you enable multiple variants of the same product, a subscriber can easily choose the variant they want to add. This same 1-time upsell module will also populate in the Subscription section within your Skio Dashboard so your CX team can add upsells if a subscriber is having issues.
Here's how to enable the upsell:
Once you make a variant eligible for upsells, here is what the customer portal will display:
---
FAQs
Do I have to enable 1-time upsells?

Upsells are disabled by default and you can enable them at any time for any variant of your choice.
How do I remove a 1-time upsell for a subscriber?

Once a subscriber adds the product to their next order, a 1-time tag will be added to the product in their customer portal. If you need to remove the add-on for a subscriber, all you have to do is search for their subscription in Skio > Subscriptions and click "reduce quantity by 1" and then click "Save". See this screenshot below:
How do I use the 1-time upsell Quick Action tool in Klaviyo?

Please see our Quick Actions guide here.